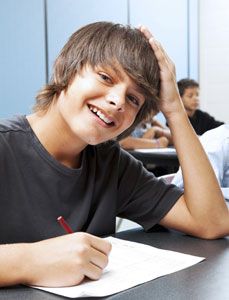 A NEW BEGINNING ON SCHOOL
Education for young men provides the foundation for work as an adult. For those who are struggling with challenging personal issues, however, academic achievement is often far down the list of active concerns.
At Kaizen Academy, academic achievement is promoted by giving each youth the opportunity to make it a priority and by fostering a safe and academically challenging learning environment at our teen residential treatment center near Provo, Utah.
INDIVIDUALIZED APPROACH
The young men at Kaizen Academy attend school in our on-campus classroom with instructional support on campus and oversight provided by certified teachers through our private school ("Alta Independent" school, accredited by AdvancED).
We elect not to use "Kaizen Academy" as the school name to protect the confidentiality of each student on transcripts and diplomas.
When first admitted to Kaizen Academy, each student receives a credit evaluation and testing to evaluate areas of needed improvement. When needed, additional assistance is provided through our special education services and tutors.
Our academic support staff to student ratio is 1 to 3, providing an environment for students to make progress toward educational goals.
We offer a "hybrid" multimedia-rich format for learning that provides the flexibility of online schooling with the benefit of one-on-one and small group instruction. The curriculum is standard for junior high and high school; however, course work is also individualized to help each student meet graduation requirements. The curriculum is designed for individualized programs that correct academic weaknesses, capitalize on strengths, learning styles and increase self-confidence.
Many students at Kaizen Academy have achieved academic success for the first time in their lives, often creating the spark for a love of learning. Academic opportunities for advanced placement and college classes are also available for youth who are eligible for and interested in post-high-school education.
Core classes offered at our teen RTC include (but not limited to): Pre-algebra, Algebra, Algebra 2, Geometry, Biology, Chemistry, Physics, World History, American History, Earth Science, Writing Comprehension, English, Physical Education, Spanish, German, French, and Health.